| February 23rd, 2007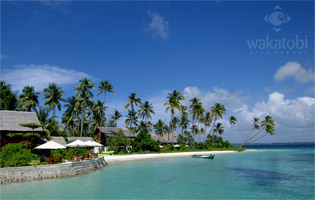 This place is the tops in a diving resort offering virtually everything. It's an ultra-exclusive hideaway with fabulous bungalow accommodation, and, some of the best coral reefs to explore in the whole of Indonesia.
According to their website, the establishment is situated on the beautiful tropical island of Onemobaa in the remote and peaceful Wakatobi archipelago in the Banda Sea, Wakatobi Dive Resort offers what many consider to be the best reef diving in the world. What makes Wakatobi so unique is the extent to which the resort envelops the surrounding area into a sustainable marine protected area.

Blessed with a house reef where you can begin your dive only 20m (60 feet) from the dive center, Wakatobi is often described as a live aboard with a built-in beach! In addition to the spectacular house reef, there are several dozens of easily accessible dive sites offering incredible marine life diversity, color and natural splendour. With three boat dives per day and unlimited shore diving included in the very comprehensive resort packages, you're ensured total diving freedom!
Contact: Wakitoba Resort
Photos: Wakitoba Resort