| March 5th, 2007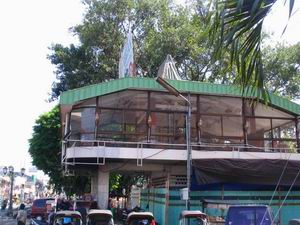 One of the many restaurants my wife Candika and I frequent is the Legian Garden Restaurant located on Jalan Malioboro, an upstairs glass-fronted building seemingly suspended over the sidewalk.
Actually I was quite surprised the restoran didn't collapse into a heap during the recent and devastating earthquake. But, it's still there and offers a superb ambience with delicious food.
Tastefully decorated with foliage virtually everywhere you look, there are private dining areas or if you like to suspend yourself over the sidewalk, then walk through the elongated roof-garden restoran to the glass fronted and delightful but small dining area for great views of Jalan Malioboro the street below.
The Legian Garden Restaurant has an excellent menu and a bit of something for everyone – Indonesian, Chinese, French and Italian foods all superbly cooked. Their speciality is clay-pot Gudeg Ayam.
Location: Cnr Jalan Maliboro & Jalan Perwaklian (beside the north side of the Malioboro Mall)